a
ballot-field,
in which a mostly well-bred
and what's more an
even more most often ill-fed
populace is--
in combat,
in a shaky shake-off,
shirty shirt-off
shirk-it completely,
if you want to still stay alive
and do be still
and still stay still,
in this hell-hole
of a dungeon dark cellar

without a hello
or giving in
to a louder holler--
that is what
indian Politics
is
A BATTLEFIELD OF
A BALLOT FIELD
in combat
with a pack of power-drunk donkeys,
being refereed
[without being eyed
or given the go-by
of a benefit of a doubt
or a doubty nought
by a third umpire]
by a Pancatantra Monkey

eating up all of the chappati
DRAGGED in by THE DUO OF
the two caterwauling TOM cats
with the tom tom alley cats
in tow,

as part of their deal
for a mid-day meal
scheming and screaming
in duo
for a
JUSTICIABLE
DISTRIBUTION OF EQUITY,
after having been programmed
to "Play Power Politics",
in the New Imperia
where the new emperor
not only wears no clothes
but is nowhere without the clothes
let alone inside the non-existent clothes
but this is the New Imperia
run in proxy
by proxy vox
by a calculator-toothed
pin-striped
world bank official
lurking in the background

wearing contraband
"contact" lenses,
in the eyes of the hawala racketeer
but without the sew-on of a sou-on
of even one or half of
a decency buttons
called
DEMOCRACY OR FREEDOM
to punch into the EVM's
which have been trieed to
if not for the vigilantes
in the election commission
to be pre-programmed
by pliable pliant off-sell-dom [officaldom]
into playing a
'naach na aya angan teda'
'ginna aya gantantra teda'
making
Hail Fellow,
Well-bellowed
Lyngdoh! LYNGDOH
GO
OH SO BALLISTIC!
niyyat rahaan
neta kahaan?
And in ANDHRA PRADESH
EVEN BEFORE
going to the polls,
a whole new SUB-STATION
nation of neither ill-bred
nor well-bred
but plain as
dunkin dungeon do-noughts
non-bred NON-BREAD NON-BRED
photo-unidentifiable populace,
has been instantly
birthed into being,
BY THE MEHERBANI OF
THE INVISIBLE POWERS THAT BE
THAT MAY WELL BE
all of New Zealand,
Tasmania and Gondwana
thrown together into a computer
to emerge as an add-on state
of bogus voters!
This was a serious crime
against all tenets of
DEMOCRACY, FREEDOM
AND JUSTICE AND CONSTITUTION
AND ALL THOSE HIGH FUNDA WORDS
that grace the pillars
of the temples of our re-PUBLIC
you would have thought?
But ho-hO?
oH-No!
The slave scribes are
NOW HERE AND NOW THERE BEING PRESSED INTO SCRIBBLING
most lea[r]nedly
a
bout

how the hollowed out horrors
are being perpetuated by 'those
enjoying constitutional immunity'
[and if only those enjoying those
can be allowed to squeeze in a word
edgeways
one can imagine the state
OF FREEDOM
FREE SPEECH
AND DEMOCRACY
BEING DUNGEONED AND BLUDGEONED
WITHOUT THE GRACE OF AN
EMERGENCY BEING 'DECLARED'
UNDERHAND DEALINGS AND DUNKIN DO-NOUGHTS NOT WITHSTANDING
THE LIGHT OF THE DAY
NOR THE SOUND AND FURY OF THE DARK LONG NIGHT
ENJOYING 'IMMUNITY'
IF YOU PLEASE TO

to bad-mouth
the hallowed allover
makeover mahashayas
of a
pure as pavitra
primrose path polity!
HUH! HA HO!
THE ASOKA STUPA CRINGES INTO THE CAPITAL!
BUT MORE OF THAT LATER. . .
COME BACK AND STAY BACK
FOR MORE AND MORE
MESO THERMIC
HOMOTHERMIC
AND
POIKIOTHERMIC
EVOLUTION
TO KNOW
HOW WE GOT
FROM THAT ASOKAN GREAT
TO THIS
INDIA SHINING
RAISE A GLOSS OVER THE GROT POT!
COLOUR ME CRAZY? THAT "THE COMMONWEALTH?!?"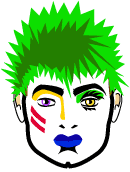 COMMONWEALTH? DOGGIE NOSE AIR COOLIE CLUB COLONIAL!
Mushth be
suckers for suffering
after getting looted for centuries
they get together and call themselves
THE COMMONWEALTH
and wear their colours on their
coloured and colourless faces
as if it were called:
FREEDOM DEMOCRACY
AND
EQUALITY!
DISBAND
THE COMMONWEALTH!
TODAY!!!@!!!!!
WORKING
TOWARD
DISBAND
THE COMMONWEALTH
AT THE SAARC
ThiS IS
LONG PAST
THE BED TIME
OF COOLIE CLUB WEARING DOGGIEBAGS
AS
COLOURED COLOURABLE
COLLARS!
INDEPEDENCE WON 1947
COMMONWEALTH CONTINUES
2004?
HUH AREN'T WE ASHAMED TO BE
ASOKA'S
LIONS ROAR?