GUANTANAMERA!

OR

GUANTANAMO BAY!

THE CHOICE IS THAT STARK.

AND THE CHOICE CUTS ARE TOO JUICY!

TO BE PICKY AND CHOOSY!
How to Change a Tire
Step 1: Jack it up!

THAT IS IT!

INFLATED TYRES FALL FLAT WHEN DEFLATED!

AND THAT IS THE ONLY DEEP PHILOSOPHY YOU WILL NEED WHEN YOU DEAL WITH FOLKS TOO FULL OF THEMSELVES TO OFFER FULL FREEDOMS TO FOLKS!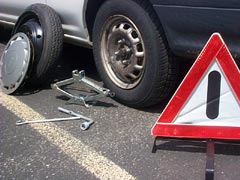 Step 2: RATCHET UP THE RACKET!

THAT IT IS A VERITABLE RACKET!

VERILY, VERILY IT IS A RACKET!
Step 3: WRENCH!
OR YOU WILL RETCH!

AT THE WRETCHEDNESS OF LA NAUSEE!



Step 4: Nuts, spares and who can spare the nuts?

WE MUST BE NUTS TO THINK THE NUCLEAR DEAL IS A CIVIL CONVERSATION AMONGST EQUALS!



Step 5: WHAT YOU THOUGHT YOU WILL GET THE ENTIRE LESSON WITHOUT HAVING LEARNT A LESSON?

WAH WAH!